The April Birthday Club: 20 Famous Celebrities Celebrate Milestones in 2023!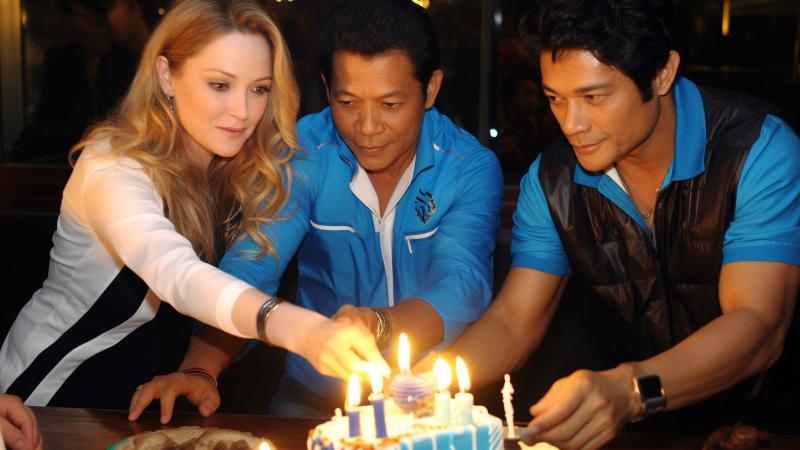 BY AGE NINJA 🕘 23, 2023
From 40 to 80, 20 famous celebrities are celebrating milestones this April! Read on to find out who these personalities are and their inspiring stories.
The month of April is special for many reasons, but for a select group of celebrities, it's even more special. April marks the birthday of some of the most influential and successful people in the world, from actors and musicians to athletes and politicians. This April, many of these celebrities will be celebrating their respective milestone birthdays, with some reaching the age of 50 and others celebrating their 80th birthdays. In this article, we will be taking a closer look at 20 of these talented individuals and their incredible accomplishments.
Customers on age.ninja order celebrities according to their popularity.
Sachin Tendulkar, 50 birthday
Born: April 24, 1973
Sachin Tendulkar is an Indian former international cricketer and a former captain of the Indian national team.
Jet Li, 60 birthday
Born: April 26, 1963
Jet Li is a Chinese film actor, film producer, martial artist, and retired Wushu champion who was born in Beijing.
Elisabeth Rohm, 50 birthday
Born: April 28, 1973
Elisabeth Rohm is an American actress best known for her roles as Assistant District Attorney Serena Southerlyn in the television drama series Law & Order.
Peter Garrett, 70 birthday
Born: April 16, 1953
Peter Garrett is an Australian musician, environmentalist, activist and former politician. He was the lead singer of the rock band Midnight Oil.
Graham Norton, 60 birthday
Born: April 4, 1963
Graham Norton is an Irish television and radio presenter, comedian, actor, author, and commentator.
Christian Finnegan, 50 birthday
Born: April 1, 1973
Christian Finnegan is an American stand-up comedian and actor, best known for his appearances on Comedy Central's Chappelle's Show.
Garry Kasparov, 60 birthday
Born: April 13, 1963
Garry Kasparov is a Russian chess grandmaster, former World Chess Champion, political activist, and writer.
Mark Eyskens, 90 birthday
Born: April 29, 1933
Mark Eyskens was a Belgian politician and Minister of State.
Jennifer Esposito, 48 birthday
Born: April 11, 1973
Jennifer Esposito is an American actress, author and health advocate.
Joe Mauer, 40 birthday
Born: April 19, 1983
Joe Mauer is an American former professional baseball player who played as a catcher in Major League Baseball.
Rachel Maddow, 50 birthday
Born: April 1, 1973
Rachel Maddow is an American television host and political commentator.
Richard A. Epstein, 80 birthday
Born: April 17, 1943
Richard A. Epstein is an American lawyer and legal scholar.
Adrien Brody, 50 birthday
Born: April 14, 1973
Adrien Brody is an American actor and film producer.
Tony Esposito, 80 birthday
Born: April 23, 1943
Tony Esposito is an Italian-Canadian former professional ice hockey goaltender.
Rafael Correa, 60 birthday
Born: April 6, 1963
Rafael Correa is an Ecuadorian politician and economist who served as President of Ecuador from 2007 to 2017.
Randy Kuhl, 80 birthday
Born: April 19, 1943
Randy Kuhl is a retired American politician who served as the U.S. Representative for New York's 29th congressional district from 2005 to 2009.
Miguel Cabrera, 40 birthday
Born: April 18, 1983
Miguel Cabrera is a Venezuelan professional baseball player who plays for the Detroit Tigers of Major League Baseball.
Marc Jacobs, 60 birthday
Born: April 9, 1963
Marc Jacobs is an American fashion designer.
Miranda Kerr, 40 birthday
Born: April 20, 1983
Miranda Kerr is an Australian model, entrepreneur, and author.
Ray L. Hunt, 80 birthday
Born: April 6, 1943
Ray L. Hunt is an American businessman and philanthropist.
Ron Clements, 70 birthday
Born: April 25, 1953
Ron Clements is an American animation director, film director, screenwriter, and animator.