Vladimir Putin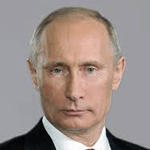 Next birthday in
Basic information
AKA
Vladimir Vladimirovich Putin
Category
Country
Russia
Birth place
Leningrad, Soviet Union
Russian politician and former intelligence officer, from 1985 to 1990, he served in Dresden, East Germany, using a cover identity as a translator.
President of Russia since 2012, and previously from 2000 until 2008
Also the prime minister from 1999 to 2000, and again from 2008 to 2012.
The second-longest current serving European president after Alexander Lukashenko of neighbouring Belarus.
His invasion of the sovereign state of Ukraine in 2022 was condemned at the United Nations by 141 votes to five (with 35 abstentions).
The invasion of Ukraine led to worldwide condemnation of Putin, and massive sanctions on the Russian Federation.
Find more information about Vladimir Putin on
Wikipedia

Let's calculate your combine birthday with Vladimir Putin and 25 interesting calculations from your date of birth.

Interesting calculations/facts about Vladimir Putin
Generation:
Baby boomers or Generatin W (1946-1964)
Zodiac sign:
Libra ♎ (September 23 - October 22)
Chinese zodiac sign:
Dragon
No. of Heartbeats:
2,959,488,000
No. of Breaths:
601,146,000
No. of blinks (with 8 hours of sleep every day):
416,178,000
Hair length (if it was never cut):
1,070 cm or 10.70 meters (35 feet 1.4 inches)
Nail length (if it was never cut):
2,997 mm or 3.00 meters (9 feet 10.0 inches)



Celebrate NOW
Vladimir Putin - Celebrations from his DOB


4 days from now, February 11, 2023, Vladimir Putin celebrate exactly 37,000,000 minutes

60 days from now, April 8, 2023, Vladimir Putin celebrate 71st half birthday

84 days from now, May 3, 2023, Vladimir Putin celebrate 293rd Mercury age

95 days from now, May 13, 2023, Vladimir Putin celebrate 176th turtle age

143 days from now, June 30, 2023, Vladimir Putin celebrate exactly 620,000 hours

150 days from now, July 7, 2023, Vladimir Putin celebrate 115th Venus age

172 days from now, July 30, 2023, Vladimir Putin celebrate 294th Mercury age

181 days from now, August 7, 2023, Vladimir Putin celebrate exactly 850 months

209 days from now, September 5, 2023, Vladimir Putin celebrate exactly 3,700 weeks

242 days from now, October 7, 2023, Vladimir Putin celebrate 71st birthday
242 days from now, October 7, 2023, Vladimir Putin celebrate 12nd dog age
242 days from now, October 7, 2023, Vladimir Putin celebrate 15th cat age
242 days from now, October 7, 2023, Vladimir Putin celebrate 177th turtle age
242 days from now, October 7, 2023, Vladimir Putin celebrate 27th horse age
242 days from now, October 7, 2023, Vladimir Putin celebrate 20th cow age
242 days from now, October 7, 2023, Vladimir Putin celebrate 48th elephant age