Mazda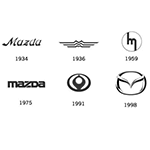 Next birthday in
Basic information
AKA
Mazda Motor Corporation
Category
Country
Japan
Description
automotive company
Japanese multinational automotive manufacturer, founder Jujiro Matsuda
Began as the Toyo Cork Kogyo Co., Ltd, as a cork-making factory, producing cork for gaskets, insulation and cushioning material
Company initially focused on creating manufacturing tools and heavy machinery.
In 1931, Toyo Kogyo moved from manufacturing machine tools to vehicles
The name Mazda came into existence with the production of the company's first three-wheeled trucks
In 1960 was launched the first passenger car – the R360.
The name "Mazda" was inspired by the god of light and wisdom, Ahura Mazda
Over the years, the old Mazda logos evolved to become more modern and engaging.
Find more information about Mazda on
Wikipedia

Celebrate NOW
Mazda - Celebrations from his DOB


53 days from now, November 19, 2023, Mazda celebrate 431st Mercury age

55 days from now, November 21, 2023, Mazda celebrate exactly 910,000 hours

113 days from now, January 18, 2024, Mazda celebrate 169th Venus age

125 days from now, January 30, 2024, Mazda celebrate 104th birthday

139 days from now, February 13, 2024, Mazda celebrate exactly 38,000 days

141 days from now, February 15, 2024, Mazda celebrate 432nd Mercury age

187 days from now, April 1, 2024, Mazda celebrate exactly 1250 months

229 days from now, May 13, 2024, Mazda celebrate 433rd Mercury age

308 days from now, July 31, 2024, Mazda celebrate 105th half birthday

317 days from now, August 9, 2024, Mazda celebrate 434th Mercury age