Queen Victoria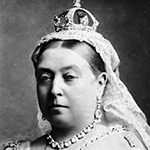 Monday May 24, 1819
Tuesday January 22, 1901
Next unlived
birthday in
Basic information
AKA
Alexandrina Victoria Hanover
Category
Subcategory
Country
United Kingdom
Birth place
Kensington Palace, Kensington, London, England
Queen of the United Kingdom of Great Britain and Ireland from 20 June 1837 until her death on the 22nd January 1901, this was 63 years, seven months and two days on the throne. She came to the throne at the age of just 18 when her father's three elder brothers died, becoming the second-longest reigning monarch in Britain after Elizabeth II who has been on the throne for over 68 years.
Find more information about Queen Victoria on
Wikipedia

Let's calculate your combine birthday with Queen Victoria and 25 interesting calculations from your date of birth.

Interesting calculations/facts about Queen Victoria
Zodiac sign:
Gemini ♊(May 21 - June 20)
Nr. of Heartbeats:
8,497,497,600
Nr. of Breaths:
1,726,054,200
Nr. of blinks (with 8 hours of sleep every day):
1,194,960,600
Hair length (if it was never cut):
3,073 cm or 30.73 meters (100 feet 10.0 inches)
Nail length (if it was never cut):
8,606 mm or 8.61 meters (28 feet 2.8 inches)


Celebrate NOW
Queen Victoria Celebrations from his DOB


16 days from now, May 24, 2021, Queen Victoria celebrate 202nd birthday

42 days from now, June 19, 2021, Queen Victoria celebrate 839th Mercury age

76 days from now, July 23, 2021, Queen Victoria celebrate 504th turtle age

130 days from now, September 15, 2021, Queen Victoria celebrate 840th Mercury age

142 days from now, September 27, 2021, Queen Victoria celebrate 57th cow age

162 days from now, October 17, 2021, Queen Victoria celebrate 329th Venus age

190 days from now, November 14, 2021, Queen Victoria celebrate 77th horse age

199 days from now, November 22, 2021, Queen Victoria celebrate 203rd half birthday

200 days from now, November 24, 2021, Queen Victoria celebrate exactly 2430 months

218 days from now, December 12, 2021, Queen Victoria celebrate 841st Mercury age

223 days from now, December 17, 2021, Queen Victoria celebrate 505th turtle age

236 days from now, December 30, 2021, Queen Victoria celebrate exactly 74,000 days

250 days from now, January 13, 2022, Queen Victoria celebrate 137th elephant age

306 days from now, March 10, 2022, Queen Victoria celebrate 842nd Mercury age

310 days from now, March 14, 2022, Queen Victoria celebrate exactly 6,400,000,000 seconds