Walt Disney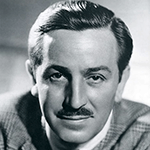 Thursday December 5, 1901
Thursday December 15, 1966
Next unlived
birthday in
Basic information
AKA
Walter Elias Disney
Category
Subcategory
Country
United States
Birth place
Chicago, IL
Professional life
Walt Disney (1901-1966) was an American entrepreneur, animator, voice actor, and film producer. He is one of the most influential figures in the history of animation and is credited with making some of the most iconic cartoons of all time. He founded the Walt Disney Company and is known for his countless contributions to the world of entertainment.
Disney was born in Chicago and moved with his family at a young age to Marceline, Missouri. He began drawing and showing an interest in animation from a young age, creating short animated films with his family's camera. After serving in the Red Cross Ambulance Corps during World War I, Disney moved to Hollywood and began his career as an animator working for the Kansas City Film Ad Company.
In 1923, Disney and his brother Roy founded the Disney Brothers Cartoon Studio in Hollywood. The studio began producing a series of short animated films, and in 1928, Disney released his first major success, the cartoon "Steamboat Willie" featuring the character Mickey Mouse. This was Disney's first venture into the world of feature-length animation, and it was a huge success.
Disney went on to create many iconic animated films in the decades that followed, such as "Snow White and the Seven Dwarfs" (1937), "Fantasia" (1940), "Cinderella" (1950) and "Mary Poppins" (1964). He also created Disneyland, a theme park in Anaheim, California, in 1955, and Walt Disney World in Florida in 1971.
In addition to his animation and filmmaking career, Disney was also a successful businessman. He created the Walt Disney Company and took it public in 1940, and it is now one of the largest media conglomerates in the world. He was also a pioneering innovator in the field of theme parks, developing a number of amusement parks around the world, including Tokyo Disney Resort and Shanghai Disney Resort.
Disney was a passionate and creative individual who had a profound impact on the entertainment industry. His legacy continues to live on through his numerous films, theme parks, and other creations. He was awarded 22 Academy Awards during his lifetime, more than any other individual. He was also the recipient of four honorary Academy Awards and a Golden Globe Award.
Disney was a man of many talents, and his influence lives on. His animated films are still beloved by people of all ages, and his theme parks continue to draw millions of visitors each year. He was a pioneer in the world of animation and entertainment, and his work will continue to be enjoyed for generations to come.
Birthday parties and gifts
Walt Disney was known for throwing extravagant birthday parties for himself, often inviting notables from the entertainment industry. For his 50th birthday in 1951, Disney held a grandiose celebration which included a huge parade, special floats, and a show. He also invited guests for a private screening of his then-upcoming animated film, Alice in Wonderland.
One of Disney's favorite birthday presents was a miniature model of the Disneyland theme park that was presented to him in 1955. The model was three feet by five feet and included all of the iconic landmarks of the park. He kept the model in his office, and it was displayed at Disneyland after his death.
Disney also had a tradition of giving himself "Lucky Coins" on his birthday. The coins were meant to bring him good luck, and he would carry them with him wherever he went. He gave the coins to his family and friends as gifts and even wrote about them in his book, "Walt Disney: An American Original."
Interesting facts related to Walt Disney's age
In 1923, when Walt and his brother Roy founded the Disney Brothers Cartoon Studio, Walt was just 22 years old.
Five years after, in 1928, when they released their first major success, the cartoon "Steamboat Willie" featuring the character Mickey Mouse, he was 27.
Disney was only 65 years and 10 days old when he passed away in 1966. He achieved a great deal during his lifetime and is considered one of the most influential figures in animation history.
Find more information about Walt Disney on
Wikipedia

Let's calculate your combine birthday with Walt Disney and 25 interesting calculations from your date of birth.

Interesting calculations/facts about Walt Disney
Generation:
The Greatest Generation (1901-1927), 1 year from The Lost Generation (1883-1900)
Zodiac sign:
Sagittarius ♐ (November 22 - December 21)
Nr. of Heartbeats:
5,125,132,800
Nr. of Breaths:
1,041,042,600
Nr. of blinks (with 8 hours of sleep every day):
720,721,800
Hair length (if it was never cut):
1,854 cm or 18.54 meters (60 feet 9.8 inches)
Nail length (if it was never cut):
5,191 mm or 5.19 meters (17 feet 0.4 inches)



Celebrate NOW
Walt Disney - Celebrations from his DOB


1 days from now, September 26, 2023, Walt Disney celebrate 198th Venus age

23 days from now, October 18, 2023, Walt Disney celebrate 506th Mercury age

49 days from now, November 13, 2023, Walt Disney celebrate 304th turtle age

71 days from now, December 5, 2023, Walt Disney celebrate 122nd birthday

94 days from now, December 28, 2023, Walt Disney celebrate exactly 1,070,000 hours

111 days from now, January 14, 2024, Walt Disney celebrate 507th Mercury age

164 days from now, March 7, 2024, Walt Disney celebrate 65th Mars age

196 days from now, April 8, 2024, Walt Disney celebrate 305th turtle age

199 days from now, April 11, 2024, Walt Disney celebrate 508th Mercury age

226 days from now, May 8, 2024, Walt Disney celebrate 199th Venus age