Daniel Anthony Padilla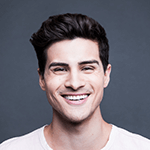 Wednesday September 16, 1987
Next birthday in

Let's calculate your combine birthday with Daniel Anthony Padilla and 25 interesting calculations from your date of birth.

Interesting calculations/facts about Daniel Anthony Padilla
Generation:
Milennials or Generation Y (1981-1995)
Zodiac sign:
Virgo ♍ (August 23 - September 22)
Chinese zodiac sign:
Rabbit
Nr. of Heartbeats:
1,445,068,800
Nr. of Breaths:
293,529,600
Nr. of blinks (with 8 hours of sleep every day):
203,212,800
Hair length (if it was never cut):
523 cm or 5.23 meters (17 feet 1.8 inches)
Nail length (if it was never cut):
1,464 mm or 1.46 meters (4 feet 9.6 inches)
Top 5 songs on Billboard THE HOT 100
in the week when Daniel Anthony Padilla was born.



Celebrate NOW
Daniel Anthony Padilla - Celebrations from his DOB


35 days from now, February 23, 2022, Daniel Anthony Padilla celebrate 143rd Mercury age

39 days from now, February 27, 2022, Daniel Anthony Padilla celebrate 56th Venus age

55 days from now, March 15, 2022, Daniel Anthony Padilla celebrate exactly 1,800 weeks
55 days from now, March 15, 2022, Daniel Anthony Padilla celebrate 86th turtle age

58 days from now, March 17, 2022, Daniel Anthony Padilla celebrate 35th half birthday

123 days from now, May 22, 2022, Daniel Anthony Padilla celebrate 144th Mercury age

187 days from now, July 25, 2022, Daniel Anthony Padilla celebrate exactly 1,100,000,000 seconds

202 days from now, August 9, 2022, Daniel Anthony Padilla celebrate 87th turtle age

211 days from now, August 18, 2022, Daniel Anthony Padilla celebrate 145th Mercury age

240 days from now, September 16, 2022, Daniel Anthony Padilla celebrate 35th birthday
240 days from now, September 16, 2022, Daniel Anthony Padilla celebrate exactly 420 months

263 days from now, October 9, 2022, Daniel Anthony Padilla celebrate 57th Venus age